ENTER>
The only difference is the orange is chrome and the black metal is chrome.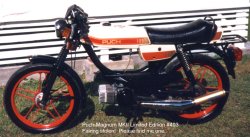 I also own a 1987 Kawasaki X-2 similar to this one.
It has a 750 cc engine and I like the style of it!
---

MOPED GALLERY

MY MOPED

MICHIGAN'S MOPED & PWC LAWS

PWC (JET SKI) GALLERY

MY JET SKI
---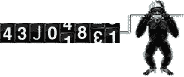 This page was designed by J.B.with help from B.S. P.R. and R.B.